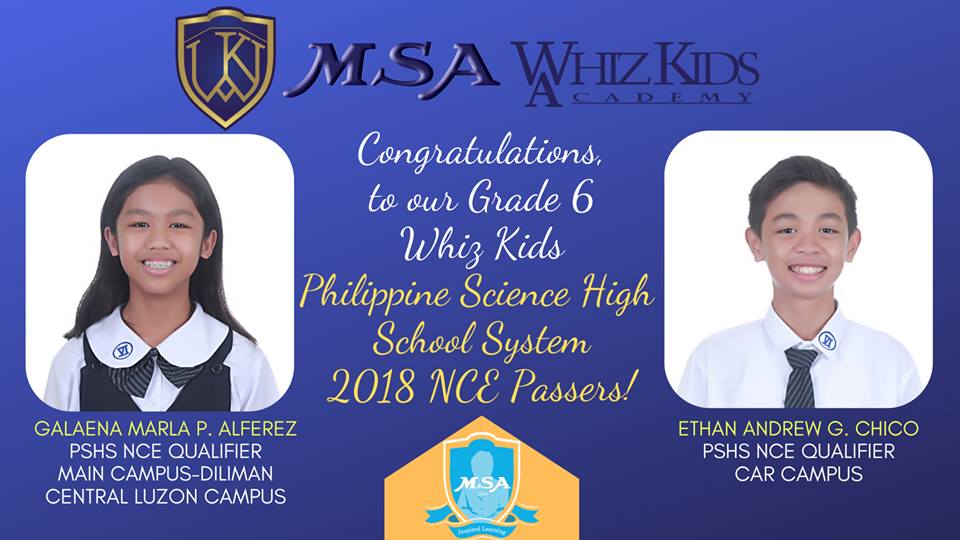 Congratulations to our Grade 6 Whiz Kids who passed the 2018 PSHS National Competitive Examination.
We are very proud to have you in our list of MSA PISAY SCHOLARS!
Graduating Batch #5, 2018-2019
Galaena Marla P. Alferez, Diliman Main Campus & Central Luzon Campus
Ethan Andrew G. Chico, CAR Campus
Graduating Batch #4, 2017-2018
Oyayi Villegas, Visayas Region Campus
Vhionze Denice T. Olivares, MIMAROPA Campus
Graduating Batch #3, 2016-2017
Zachary Nucup, Diliman Main Campus
Bass Reyes, Diliman Main Campus
Graduating Batch #2, 2015-2016
Sophia De Las Llagas, Diliman Main Campus
Graduating Batch #1, 2014-2015
Alexander Marquez, Ilocos Region Campus
---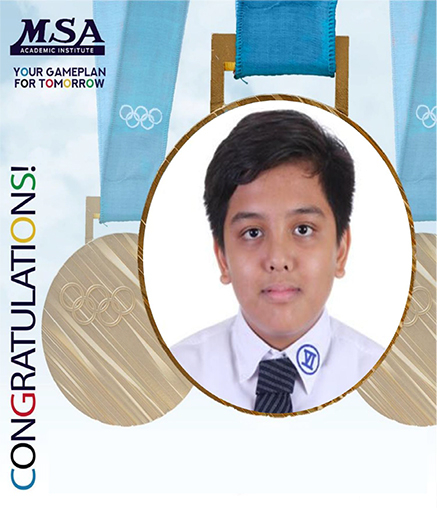 Joaquin Lorenzo Sanguyo
Philippine Science High School – Main Campus Passer
Ateneo De Manila Jr High Passer
Caloocan National Science & Technology High School Passer
MSA Whiz Kids Academy Student
---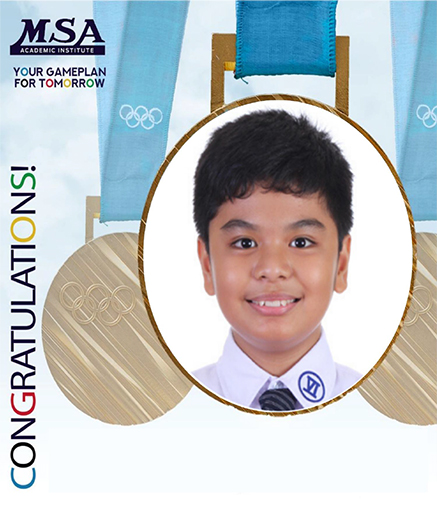 Aldrin A. Malabanan
Philippine Science High School – Main Campus Passer
Caloocan National Science & Technology High School Passer
MSA Whiz Kids Academy Student
---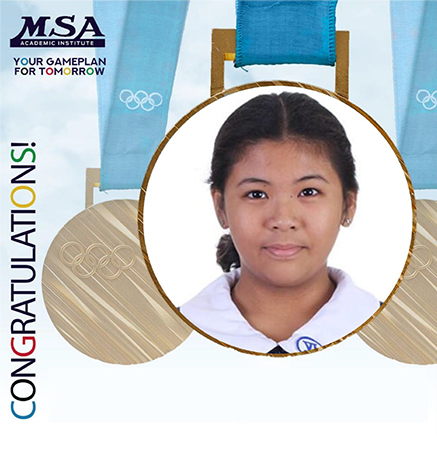 Adrielle Nicole B. Alonzosana
Philippine Science High School – CAR Campus Passer
MSA Whiz Kids Academy Student
---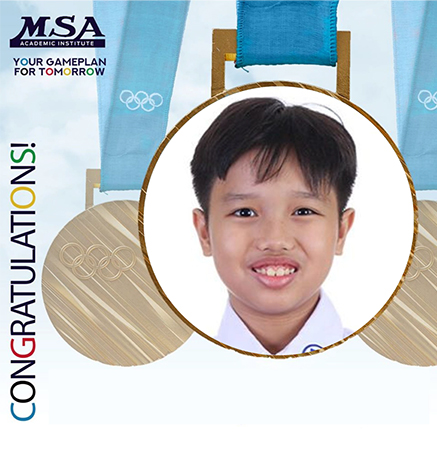 Angelo Marc R. Feliciano
Philippine Science High School – CLC Campus
MSA Whiz Kids Academy Student
---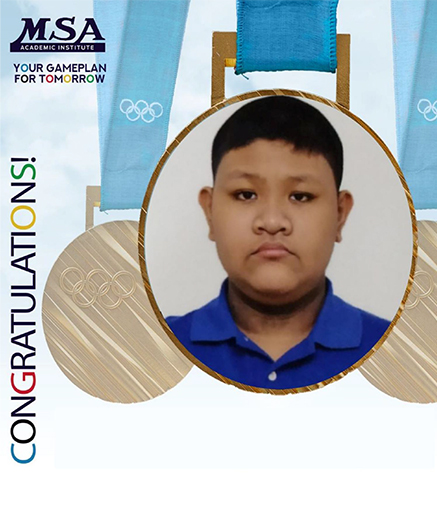 "I was good in Math and Science, but when I decided to take the 2019 Philippine Science High School National Competitive Exam, I felt lacking and needed the extra knowledge, most especially in English, to give me some boost. MSA did not fail to deliver. With blessings from God and with what I already knew from school plus the new information I had from my comprehensive review and refresher courses from MSA, I was one of the 240 for the PiSay Main Campus. Thank you, MSA. To God be the glory."
Miguel Lorenzo C. dela Cruz
Philippine Science High School – Main Campus Passer
---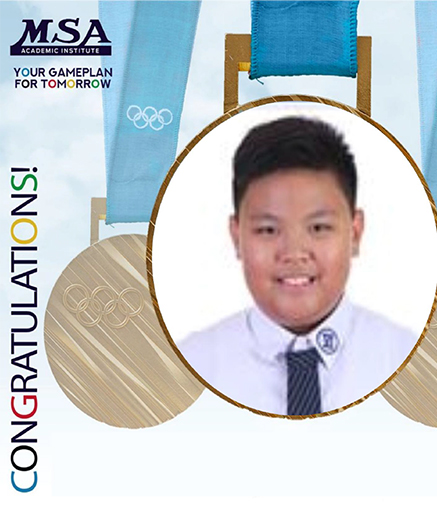 Aaron Benedict L. Bautista
Ateneo de Manila Jr High Passer
MSA Whiz Kids Academy Student
---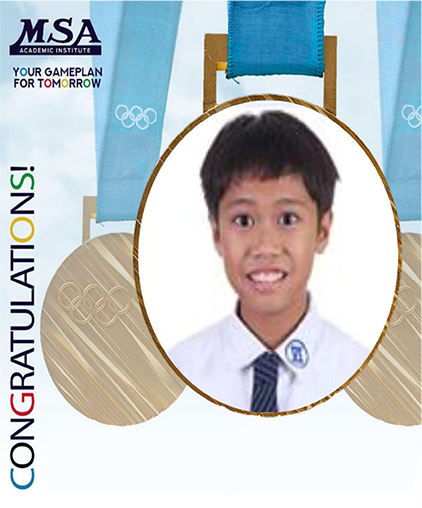 Josef Albert N. Lim
Ateneo de Manila Jr High Passer
MSA Whiz Kids Academy Student
---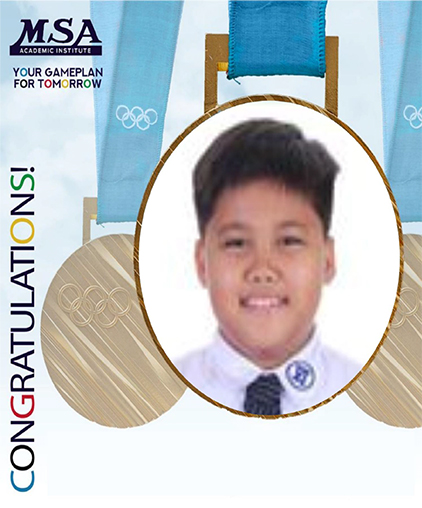 Sebastian Luis M. Magtibay
Ateneo de Manila Jr High Passer
MSA Whiz Kids Academy Student
---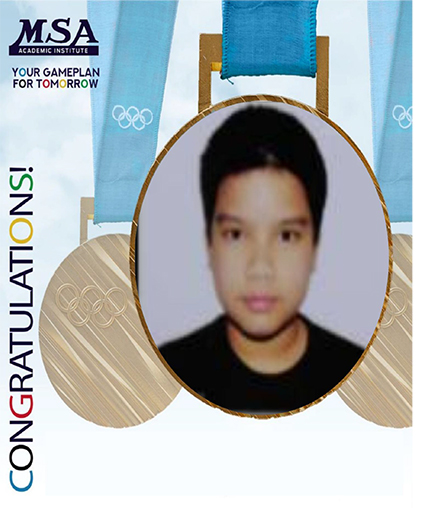 Bathala Panganiban Bernardo
Ateneo de Manila Jr High Passer
---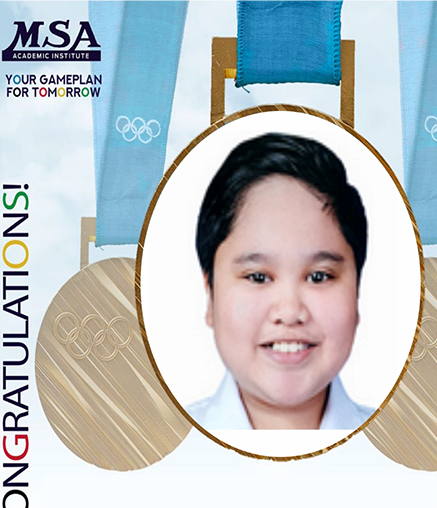 Hanz Nathan Resurreccion Ouano
Ateneo de Manila Jr High Passer
---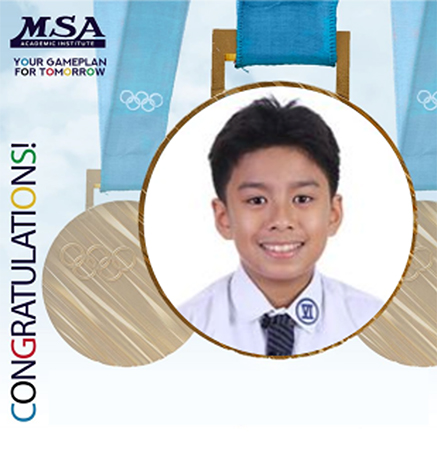 Jaron Elijah M. Bautista
Caloocan National Science & Technology High School Passer
MSA Whiz Kids Academy Student
---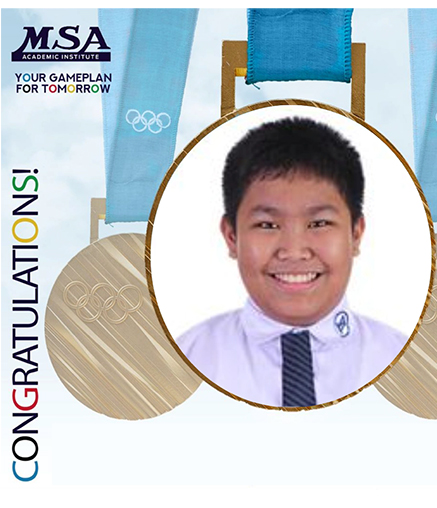 Andrei Joe T. Diaz
Caloocan National Science & Technology High School Passer
MSA Whiz Kids Academy Student
---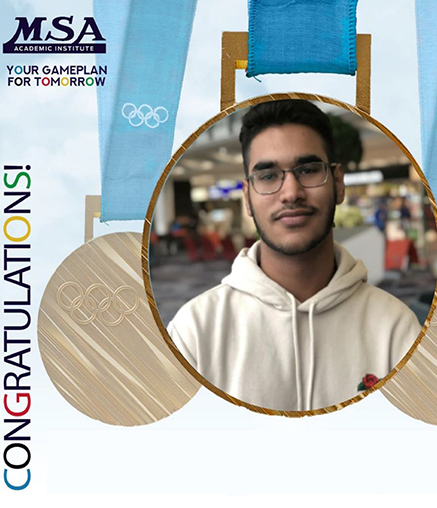 Pardeep Singh
DCAT Passer
Course: BS Business Management / BA Economics
---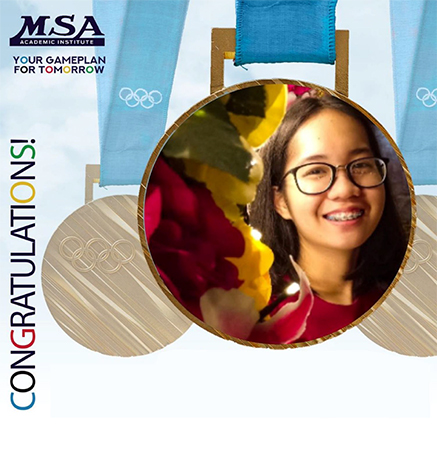 Irish Gail Habig
DCAT Passet
Course: Bachelor of Science in Manufacturing Engineering with Specialization in Mechatronics & Robotics Engineering
---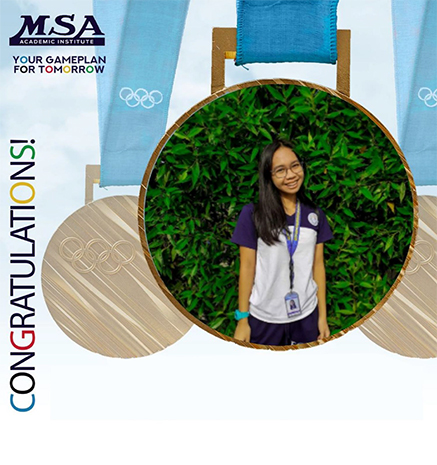 Irish Gwyneth P. Habig
DCAT Passer
Bachelor of Science in Advertising Management / Bachelor of Arts Major in Communication Arts
---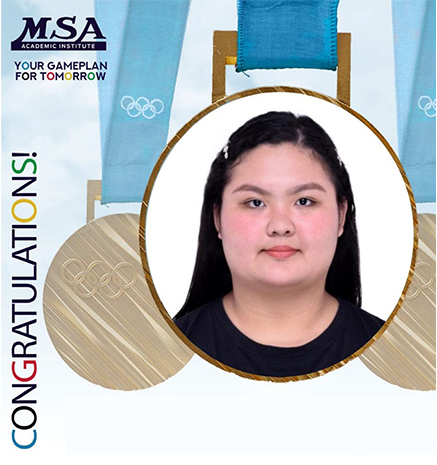 Beatrice Andrea G. Balbin
DCAT Passer
Bachelor of Science in Premed Physics 
---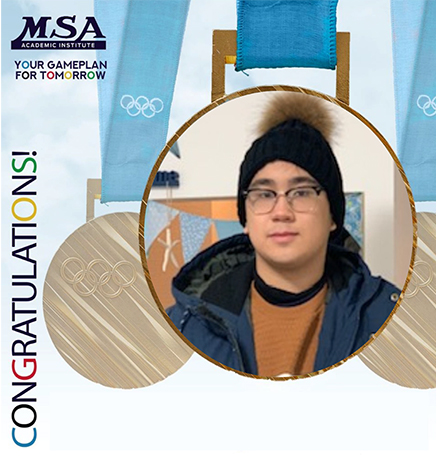 "Thank you very much MSA-Katipunan! My review with you have been a pleasant experience and prepared me well for the college entrance exams. Thank you for making my dream come true! Keep it up!"
Jerwin Gabriel R. Nicolas
DCAT Passer BA Major in Psychology
USTET Passer: BS Business Management
---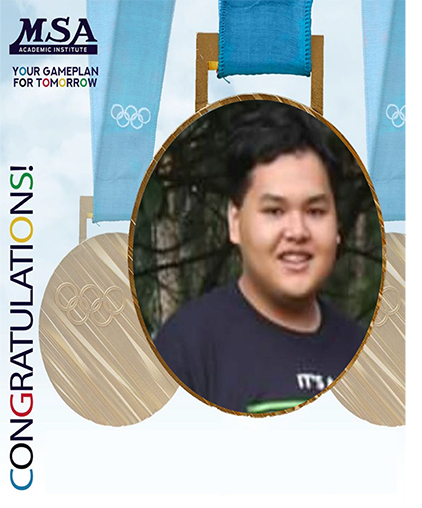 Adeem Nasser Alonto
Xavier University Ateneo de Cagayan President's Scholar
DCAT Passer: BS Biology major in Medical Biology
USTET Passer: BS Biology major in Medical Biology
---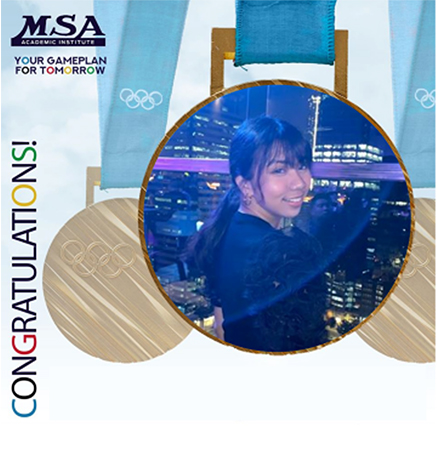 Renee Noelle Q. Co
USTET Passer
---
I was on my way on becoming an engineer but I made a complete turn and decided to pursue medicine. The first step was to ace the National Medical Admission Test. Being an engineering graduate left me with road blocks and barriers. I have very little background in biology and have only general knowledge in chemistry. It's true that I am at a disadvantage but I was not hopeless. I knew that I could not do this alone but with the help of MSA I had a chance of getting a high enough score on the NMAT to get into one of my target medical schools. Looking at the review modules, I was overwhelmed with how much information I needed to study and truly understand. Thankfully, I had competent MSA teachers to help me fully understand these lessons. Together with the teachers, I worked on my weaknesses. What they did was more than just teach, you could feel that they sincerely want you to ace your exam. Besides from the topic discussions, we were also given challenging practice exams that prepared us for the NMAT. All in all, MSA did an excellent job in preparing me for my NMAT.
A month after taking the NMAT, I received my score. Who would have thought that I could have a percentile rank of 91? But I did it! Together with a great support system and faith in yourself and God, you could turn every barrier into bridges to achieve your goals and dreams.
The MSA program helped me pass the entrance tests because it enabled me to review and recall all the past lessons that I had from Grade 9 to Grade 12. In reviewing their students, the teachers first go through the whole topic and lesson and once students are comfortable enough with the lesson, they leave the students to answer numerous assigned pages in the workbook. Though tedious, I really saw the practice of this as an advantage while taking the actual tests because the different exercises, quizzes, and mock tests were all structured just like an actual CET. I noticed that the practice of "speed reading" the questions and answers, noticing the "keywords" to the subject, and shading in the boxes while taking the College Entrance Tests came as "second nature" to me, and this helped me answer well enough to pass the tests for the schools I applied for.
In comparison to my other friends, MSA was really one of the most challenging review centers (as seen in the review classes and exercises given). This was beneficial as I felt more prepared and confident since the questions in the tests were simpler what was given to me in review class. Beyond entrance tests, MSA taught me the value of excellence, hardwork and honor. The center always banked on the idea that the lessons being taught is not just to pass our dream schools (but this part of the goal), but it is for our future utility (in jobs, college, etc). Also, whenever given a difficult exercise, our mentors would always encourage us to keep trying and that our mistakes will not define how we'd perform in the entrance tests. This motivating atmosphere executed by MSA helped me persevere despite the pressure of the tests.
The DSHAPE Review Program wasn't exactly a breeze for me. It was supposed to be a review, but it turned out to be a full-on lecture for me. I quickly learned that my school was behind the pack when it came to teaching the required lessons for that year, but even though I was bombarded with these new topics, I quickly grasped the ideas of the lessons. Why? This is because the instructors never leave out important details and they teach us mnemonics which are easy to retain. The practice exercises were a nice touch as these further helped me in retaining the facts I learned during the discussions. I later found out that the method of teaching in MSA had a scientific reasoning. There are lots of methods for reviewing, the ancient one of them all is highlighting and re-reading, but the practice integrated into the program, doing practice tests, is a better way of preparing for an exam than the aforementioned method. Finally, would I recommend entering the program? I certainly would, there's more to the program than what I've said and without it I'm sure that I'd have failed or end up barely passing the exam. I had an enjoyable experience while I was in the program and I'm sure that you would too. MSA was truly the key to my success.
It was such a blessing that MSA open a new branch at Congressional, very near us. Without second thought, my mom enrolled me, believing it would help me prepare in the High School Qualifying exams, I will be taking. We were told that we are late already because the first batch already started but they are kind enough to accommodate me and give me some make up sessions to catch up with missed ones. True enough, I learned and improved a lot. I learned beyond the basic concepts, techniques and helpful tips. I enjoyed the class and even made friends. I was learning while having fun. Me and my family literally jumped for joy because I made it! I successfully passed the NCE, the one time qualifying exam of the country's most prestigious science high school, the Philippine Science High School and even qualified in Pisay- Main Campus, wherein only the top 240 out of 32,651 examinees or 0.7% are invited. That was one of my first biggest accomplishments! After Pisay, I also took the qualifying exam for Quezon City Science High School (Kisay). I also passed the exam and ranked 5 of 361 qualifiers. I am very humbled and thankful to God, my parents and MSA for helping me all throughout. With the right preparation, determination and hard work - indeed, nothing is impossible!
MSA helped me review all the things I've almost forgotten as a student. They've refounded my basics. And they always encouraged us that we can always do better. As a practicing professional, I almost forgot all I've learned in my high school years and they were indeed a great help
MSA Congressional helped me a lot in passing the NCE 2018! Grateful for the intensive discussions and comprehensive practice tests. Thanks, MSA!
I am a naturally shy girl. Even at school, I often lack confidence in my abilities. When I took the Diagnostic Test at MSA, I got a failing grade. I told my mom that I have no way of passing the test. But she encouraged me to keep going, to continue answering my workbook, and to listen carefully to my teachers. And so I did! I took to heart the explanations, techniques, and tips I have learned at MSA. I literally jumped for joy upon seeing my name on the list of Philippine Science High School National Competitive Examination passers! MSA prepared me a lot for the exam day: The mock tests familiarized me in answering even unfamiliar questions. Now, I am more confident as I brace on my journey as a Pisay student.
"MSA really helped Zion learn more with the Smart Reader Program and be ready for school this year. He is now more familiar with letters and words and he reads faster."
"I have studied math in MSA since I was in Grade 7, and I must say that this has given me an edge in my class. MSA has helped me understand my lessons easier, solve Math problems faster, and create solutions to difficult Math problems. My MSA teachers are understanding, too."
"MSA helped me pass all the college entrance exams I took. I enrolled in their College Entrance Test Preparation program and it helped me recall all the topics that I have studied. Moreover, MSA taught me strategies and techniques for successfully answering test questions."
"As a student who aspired to be a student in the Philippine Science High School, MSA has helped me a lot because it taught me lessons that were hard for me to understand before, it also improved my vocabulary and grammar. I'm very thankful for MSA because they have taught and prepared me for the exam that meant a lot to me."
For a girl who grew up in the province, the thought of reviewing for the college entrance tests in an urban area is seriously nerve-racking. I had second thoughts before I enrolled in MSA Makati because I would have to be away from home and who would find it fun to study during summer vacation, right? But I seriously had no idea that MSA would have an enormous impact in my life. My mother enrolled me in two programs: CETP and AAP Physics. The college entrance test review was of course my priority and taking up advanced lessons in physics was a personal decision. Because of these, I had classes six days a week. At first I thought I wouldn't enjoy my stay in MSA but as time passed by, I found myself getting excited to go to the center whether for the review or the advanced lessons in physics. And later on I became more comfortable being in the center that I think I became a part of the family and further discovered a "home". I found the review a bit difficult but it was in this program of MSA that I learned how to not be ashamed of asking questions whenever I don't understand what is being taught, how to patiently deal with my shortcomings, and how to reward myself for the good work I have done (doing this does boost your mood and motivation for getting higher grades!). Attending the AAP Physics program also was a great joy even though I didn't have any classmates. I enjoyed the company of the science teachers since they're amusing and they're the chill and cool types of educators. I never noticed it but one of the comments I got from my teacher was, "ready to face the challenges with a smile" and I do think this was because I was weirdly having a lot of fun in learning the science that deals with matter, energy, and their interaction with each other. The review paid off since I passed the two universities I applied for: UP (Los Banos, BS Human Ecology) and UST (BS Pharmacy). And I even got bonuses which are graduating as the batch valedictorian of our school and qualifying for the academic scholarship program of UST. I know I wouldn't remember everything they taught in Math, English and Science but I'm pretty sure that MSA left a mark in my being: I learned how to deal with this old impatient and lazy girl and transform it into a lot more cheerful, perseverant, and disciplined young lady; I learned that studying means a lot more than books and pencils because one obtains more authentic and fruitful knowledge when communication is present among the people involved; and I learned that real success is achieved when one applies discipline, passion, patience, love, and joy to his/her work
Merlene Math multiplies my child's self confidence.
Reviewing with MSA was able to improve both my academic and love for learning. My MSA Teachers were able to help me overcome my carelessness in my actions and decisions. The Challenges MSA gave me pushed me to give my all in whatever I put my mind to. My family chose MSA for me, and their decision, without a doubt, was the best for my lifelong learning.
As a student leader, people expect you to get into a top university. Such was the pressure that I took the advice of my sister who passed the entrance exams of the Big 3 and enrolled in MSA. With a conducive learning environment that offers endless support from their teachers, I have no regrets in Joining MSA!
A legendary football player once quoted "Practice does not make perfect. Only perfect practice makes perfect." Such was my experience in MSA that I passed the Big Three Universities in the Philippines -UP Diliman, Ateneo, and DLSU. With their sufficient learning materials, MSA has sharpened my knowledge that the tests could not beat me down. The Teachers are outstanding as their techniques and shortcuts allowed me to breeze through all the college entrance exams. MSA has also helped me surpass my limit and dream for bigger future.
Maintaining my grades throughout my academic life has always important. Although I am able to manage my academics, I though it would be a good idea to learn lessons in advance. Only after a few sessions with MSA, I have already mastered a number of concepts. The Teachers' explanations are always on point! As a draws to a close, I feel more confident for the coming school year!
The summer before my CET's, I needed to look for a convenient and effective CET review center. After comparing the facilities, success rates, and prices of multiple CET review centers in Makati, my mother and I decided that MSA makati was definitely the best choice. The MSA teachers were not only smart but were also patient and chill. My MSA experience, inclusive of their learning materials, definitely helped me in passing all the CET's I took.
MSA provided me with all the important & necessary study materials to help me prepare with all the entrance exams. Their excellent review program prepared me to pass all of these exams and get into my first chosen college and course.
The reviewers were very comprehensive and helped me feel very ready for the test. Moreover , the teachers were accommodating and were ready to incorporate student input..
MSA helped my son improve his grades.
Anna was able to be included in top 100 in both DLSU and Ateneo during her college entrance exam and top 50 in UST college entrance test. It helped in advance studies which she was able to Gold Medalist in High School.
For Tara, her grades went up and she was in Honor Roll last quarter (It has been a while when she was an honor)
"MSA help our daughter excel in St. Scholastica's Academy. During first month of school year, she got low scores in Math quizzes, then we enrolled her at MSA for tutorial. When she took the 1st periodical test and long tests, she almost got a perfect score 39/40. With MSA she was motivated to learn more and wants to enrol not only MSA Math tutorial, but with English and Science subjects and our family is willing to support her even MSA is very far from our place."
We, as their Parents, choose MSA because we believe that your good school can help my children for their future.
We chose MSA because we believe that our son can benefit from the center's tutorial program. especially for his Math subject.
My child really improve her reading skill and she is happy and confident about it.
My daughter has improvement in her reading comprehension. My son finds his Math subject at school a little easier because of continues drills.
My son was in the Grade 7 summer math remedial program. MSA helped build his skills and confidence to pass the program.
Carlos Joaquin V. Marquez, a reviewee from MSA Fairview and a grade 10 student from La Salle Green Hills, passed the Philippine Educational Placement Test (PEPT) and Far Eastern University (FEU) Entrance Test last June 23 and July 1, 2015.
Carlos accomplished the PEPT last June 4, 2015 at The National Education Testing and Research Center NETRC-DEPED. Before taking the exam, he was enrolled at MSA Fairview for him to review and to prepare for the said examination. He started to attend the PEPT review program last May 14, 2015 until May 29, 2015, from Monday to Friday. He reviewed several topics of the five subjects including English, Filipino, Mathematics, Science and Araling Panlipunan with the consecutive two grade levels, grade 9 and grade 10.
The DEPED required him to take the PEPT to be exempted from taking grades 11 to 12 and to be admitted to first Year College. Because of the successful results of his examination, he can now take entrance tests to different universities in the Philippines. Moreover, he performed the FEU entrance test last June 23, 2015, which is also the date when we knew his PEPT result. After one week, another successful result was released. Last July 1, 2015, Carlos' mother informed us that he also passed the FEU entrance test.
MSA has helped in greatly improving my daughter with her academic. Her grade in school has noticeable increase and she gained more confidence in school.
I improved, especially my english and math skills. Also I learned techniques in solving the problems from my MSA Teachers.